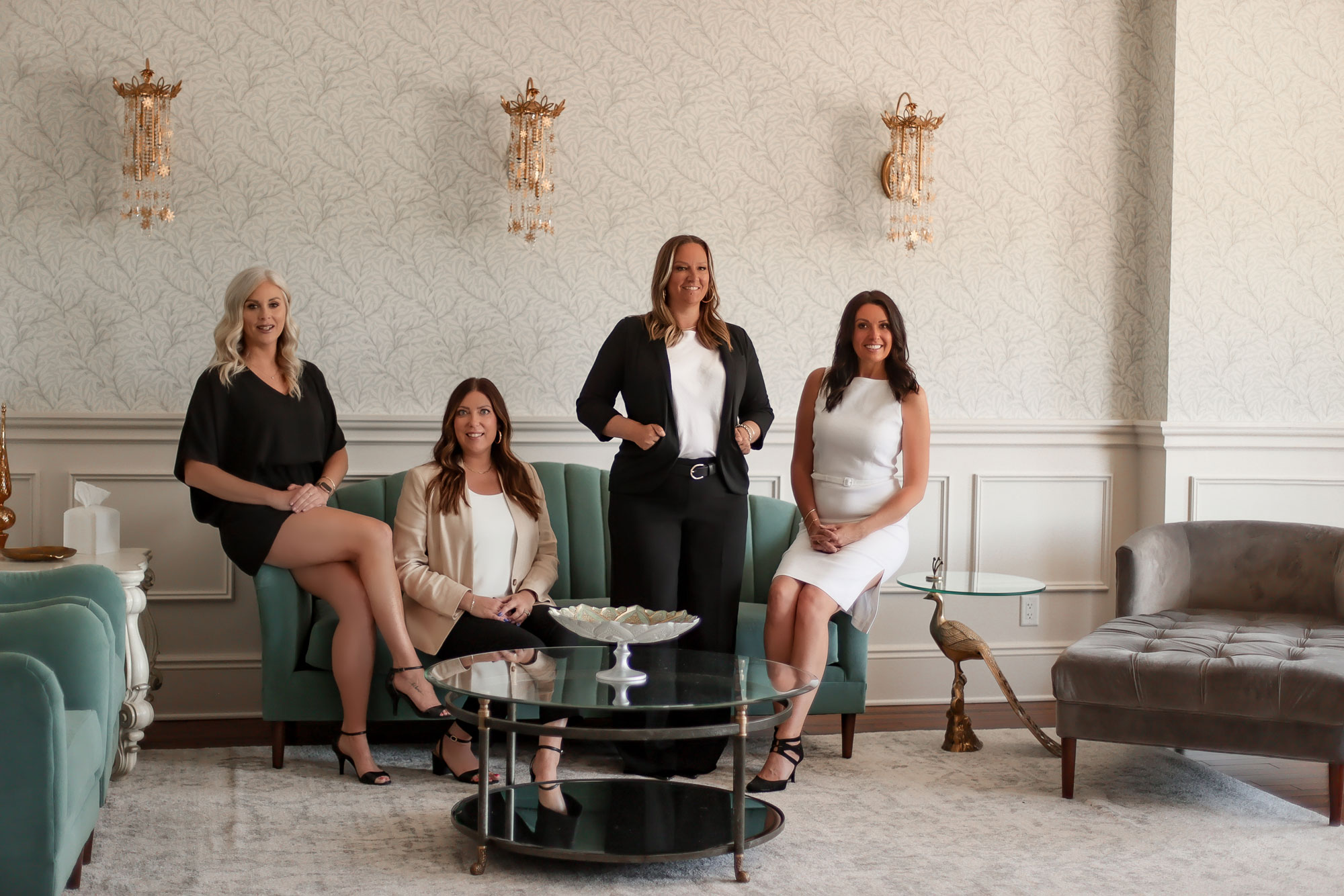 WE WORK SIDE BY SIDE WITH STRENGTH
Since the foundation of Stone & Rees Real Estate Team, we've grown with great intentionality, only inviting those Realtors alongside us who consistently demonstrate the same values and standards to their work that we do.
Most real estate groups bring aboard new members just for growth's sake alone. But, we've learned that to maintain the highest level of service to our clientele, we need to remain intentionally small, but mighty.
We're high achievers, and because of this, we provide consistent, quality service to our clientele through clear communication and poise under pressure.
As a result, we've developed a real estate group we're deeply proud of.
Over the years, we've seen how the success of our team's partnership directly impacts the success of our client's home buying and selling journeys. That's why we work side-by-side in a physical office, as it allows us to tune into each other's strengths and experience in every transaction.
Our unique core values come together to give our clients a remarkable and memorable experience from start to finish. Together, we maintain the standards of honesty and place a high value on keeping current with the latest technological and market trends, while making a point to truly tune into the needs of those we serve.
It's our commitment to never stop learning and growing – that's what continues to set us apart from our competitors in the market.
MEET THE STONE & REES TEAM MEMBERS
Holly Stone | Founder
Brandi Rees | Founder
Sara Meadows | Realtor
Kristi Ball | Realtor
KIND WORDS
"Kristi went above and beyond expectations while listing my deceased brother's home. She called the furnace vendor to confirm the air conditioner was purchased and installed at the same time as the new furnace. She listed at what I thought was a very high price. However, she had the price right on target. We had multiple offers the day after listed and closed very quickly. She answered all questions promptly and thoroughly. I would definitely recommend her. I certainly appreciated having such a knowledgeable, experienced professional at this difficult time."
-Zillow Review
The History of Stone & Rees
LAYING THE FOUNDATION FOR A PERFECT PARTNERSHIP
From the very start, our experience as Realtors began together. We met in real estate school, both seeking new ventures and flexible avenues by which to lean into our roles as mothers while pursuing fulfilling and meaningful careers.
Holly's former background was in spa ownership, where she fine-tuned her business acumen and developed her customer service skills. Brandi's interest in real estate peaked after spending a season flipping various properties alongside her husband, where she learned the ins and outs of evaluating properties and deepened her knowledge of the housing market.
We connected in a number of areas – including faith and motherhood. And we discovered we were as uncompromising in our pursuit of excellence in our newfound careers as we were in raising our families. We eventually joined the same brokerage and even shared a desk in our early days of learning the real estate ropes.
Not long after, we realized we could accomplish our goals working in tandem. When one of us would look after our (collective) seven children, the other could be fully present for a last-minute showing or a negotiation at the closing table.
In 2015, with our values aligned – professional, faith and family alike – we made our partnership official and launched the Stone & Rees Real Estate Team.
We've leaned on each other's strengths ever since, and our partnership remains as solid as ever today. It's through that confidence and power of collaboration that we've grown our team among other women who share a similar mindset, but bring their own unique giftings to their work every day.
This continual joint effort is how we, at Stone & Rees, continue to serve the men and women of Howard County. With a strong work ethic, vibrant tenacity and highly collaborative team.